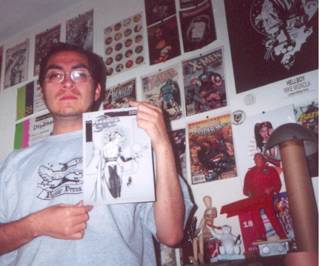 Rocket Girl 2

Hey guys a quick note for Sunday.
RRRRooockkket Girrrrllllll is on sale right now!!!
Ask Nik how to get your own copy of RG2, I have to say this comic has been a hell of a lesson, in a way has given me a better perspective on what I really want to do in a matter of controling more and better some aspects in the final product.
Do you want your copy??
ask Nik here
www.picklepress.net
Order as many as you can if you are a retailer,fan or friend help us to make number 3!!!
And tell everybody We exist...:)
You are going to enjoy a beautiful script by Nik....ahhh also about the photos the first is my room or part of it, and the other is the copy of RG2 so you can order it,ahh I forgot to mention it, a nice person help me to get a toy I always wanted to have (because when I was a little kid was my favorite...the red toy in the left corner of the second photo, there is the incredible Six Million Man Doll)...thank you Ruben for helping me with it!!..
have a great dayall of you!!!..JESUS ANTONIO