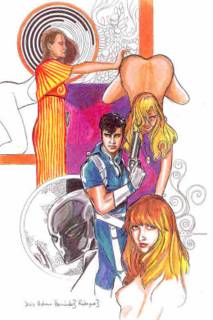 final piece

1.-this time I didn`t mess with the original pencils so I have the pencils intact.
2.-I used color pencils so I can give something different to the piece.
3.-The piece is almost done, I am only waiting to save some money and buy some golden colors to give the last touch to the piece.
4.-Wish me luck this is a cover sample so an editor in Spain can see the final product.
5.-Yes, I added some details in the right side of the girl because it was looking a little empty and by adding the vollutas I could balance the effect.
Have a great day!!1..JESUS ANTONIO