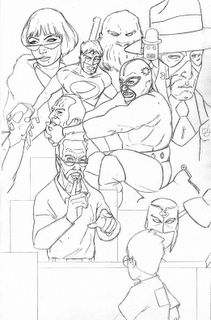 L.

NEWS.
Yes I continue with my computer broken (hahah shit happens!!)
This is one of the few pages I will load on the blog from Luchador I guess I will load at least 3, because I do not really want to spoil the whole concept and because I am sure You guys might have the fun I am having with the project as the final product.Did I tell you Nik thanks again!!??
Is only the pencils that I will color later on the week.
Tomorrow I am starting in my 4th job so I am a little nervous (nervous in a good way,,let me call it eager to be giving classes of World History and Grammar all in English!!).So guys wish me luck!
About love ...nothing yet but at least this little girl had yesterday a reunion with someone to finally take a decision, so well If she is happy(with me or without me) I am happy (I mean what else can I f***ing do?!..hahah)!!.
see you over the week!!..JESUS ANTONIO