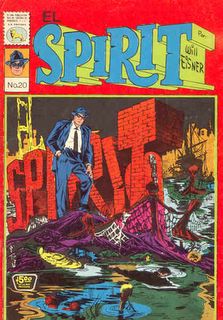 WILL

Funny how life works right, here is one of the first stories I read from Spirit (1977 spanish version) from Will Eisner,the only thing I remember a lot from the story is the darkness on it, the incredible way that Will integrated the lettering to affect the art and the great way to move The spirit.
And yes, I had once the honor to shake hands with him and have a very tiny tiny talk and He was a pleasant man!!
Now I am having some free time and well I am starting my own new schedule for the next 6 months, I will send a mail to Nik and Pedro today to let them know how things are working.
I also went to see the paperwork to look for a passport and I need to wait for another month only to have money to pay for it and later on ask for a visa.
3 days ago I received two mails with comics so I have many things to read, damn ! I almost forgot what is the smell of a new comic on my hands.
Expect new work loaded on the blog next week..!!
Have a very good day!!....JESUS ANTONIO