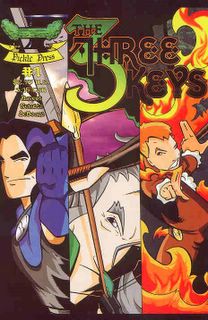 Pickle press

Do you want me to tell you that I continue having problems with my computer..I guess not!! :)
I just wanted to do now something I promise to do some time ago.
The Three Keys is one of the new publications of my great Amigo Nik Havert.
As usual I have to say that the script is the stone from this piece, I have always said Nik that what I loved about him is the voices he uses with every character He creates and the solid plots He is used to write.
About the art I guess you would like to see it!!.
Great story and the art is decent the author is Paul Schultz (I am sure he is about to evolve his style into something great over the time).
and the color cover and lettering by Craig deBoard.
Buy a copy and do not forget also to buy a copy of Rocket Girl 2.
Where?
Here!!!
www.picklepress.net
If you guys want me to have a review of your comics just get in touch with me so you can send me a copy and I promise to comment on that....have a great day!!..JESUS ANTONIO