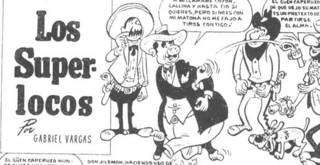 Gabriel Vargas.

I gotta confess that I never expect to investigate about Gabriel Vargas work, and the funny part is that after watching a program and a promise I made to look for work of Gabriel Vargas I was more a more interested in what He has been to my society in terms of art.
A little summary of what He has done just to enter into his major creation and the motif to make me look for (La Familia Burron).
Gabriel Vargas was a comic book author from the 50's in fact Familia Burron his creation started to be published around 1948, but before that He had a long, long way to follow.
He starts publishing his work in Jueves de Excelsior around 1932 (a very important right wing newspaper form my country) , and it was called the "precoz dibujante" because He started in a very young age (14 to be exact), in one of his interviews he says that his mother didn`t want him to be a cartoonist in fact his mother was a little mortified by seeing that the little boy liked to draw monitos (cartoons).
He starts his first comic in the pages of this newspaper and called it "Frank Piernas Largas"(Frank Long Legs) that was a detective thriller pretty realistic I might say, and drew some other realistic comics like El Caballero Rojo (The Red Knight) and a little adaption of Sherlock Holmes.
His first funny strip was Virola and Piolita (seems that virola is when a person has "a lazy eye" and Piolita is a way to say "a little smart girl").
Paquito that was a very famous comic magazine started a contest looking for some competence to Los supersabios and also to look for new blood into its force line.
Gabriel won the contest with Los Superlocos (The supercrazy guys) and didn`t get published in Paquito instead of that appears in Pepin that was a new magazine line from Garcia Valseca.
The main character was Don Jilemon (that is the image I posted) some people consider that this is indeed the prior concept to develop La Familia Burron.
Don Jilemon Metralla y Bomba is an old revolutionary that is the anti-thesis of a nice guy in fact He is corrupted,pompuous and slacker in all the sense, but incidentally he is just a lucky guy that obtains what He wants.Lucky in love and gambling becomes the owner of an Dance Academy and a cabaret called "Cirilos" called like that to make fun of a very important bar in the city called "Cirlos".
The superlocos was published in 1947 in the pages of the Pepin and in the sunday section of Esto.When is recognized by the audience the strip moves to Paquito that was the strong magazine of the line made by the publisher Garcia Valseca.
There is a moment of big importance of Gabriel Vargas that He was even publishing Los Superlocos,Virola y Piolita and La Familia Burron at the same time.
He also did some minor work like Paquito and Pinocho and los Chiflados, and a long serie called Poncho Lopez that was very popular in the early fifities.
I am including a link in Spanish that has some important information on La Familia Burron and Gabriel Vargas.
http://www.supermexicanos.com/vargas
I will write on the week about Familia Burron because it deserves more time to comment.
Have a great time!..JESUS ANTONIO