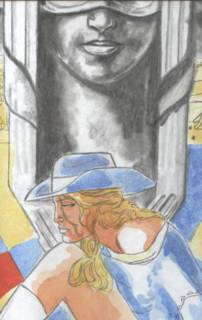 Horror time!!!

As I posted before the secret project of a friend is coming quite well, I am starting to revisit and check the flaws in my horror story.
I am trying to keep all the attention to the story and subplots specially considering I want the story to be in Spanish and English, so is quite difficult because I am trying not to lose the spirit of the story in the translations.
Right here is the image of one of the main characters playing in my Universe.
Nik is preparing a sypnosis of a story We are going to work together called the Cult.
I am also working a mid speed in the pages of The Luchador (another project by the nice folks of Nik and Me).
I will also send some proposals to some friends.
I am hoping the pages I sent to Spain are lettered before the deadline We used to have.
Music I listened yesterday
Esthero
Andrea Parker
Blur
Music I am listening today..
The Warlocks
The Vines
The Strokes
The Hives
The vines
The White Stripes
The Yardbirds
Special attention as always with new groups like
Keane
,
The Coral
(is a hilarious group!!) and one of my favorite performers Karen O from the
Yeah Yeah Yeahs
(sexy chick!!).
I still have more news but tomorrow will be good...see ya!!.
JESUS ANTONIO