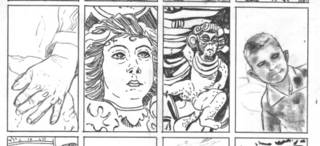 Horror script!!

About the horror script I am up to page 10, as I was saying before I am taking my time to write something it can be worth for me.
Now I have all the story plotted and it seems that by doing that the writing has become easier because I know were I wan my characters to play, as Nik always says (and I love his imput) I am trying now to get their own voices on my script, and it has been a bit difficult than I expected
I even had time to draw the backcover that in fact will be a game board for something I want to use on the story.
I still do not know if this is my only psot of the day..I caught cold again..hahaha..Well Have a great day!!..JESUS ANTONIO