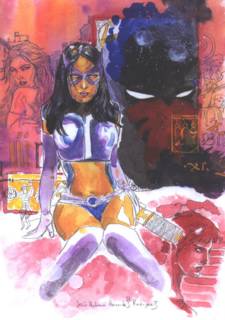 color piece

Well I was sleeping all day long, it was a very tiring day!!
I am dating tomorrow the girl I like a lot (yes, the one with the boyfriend), It doesn`t still make sense She is dating me knowing she has somebody else. In fact as I was talking to a friend and the part is that it will be the catalyzer of her relation, I mean If I am the right man She will be with me If She thinks He is the right one this odd situation will be the confirmation of her feelings for him...Yes, that really sucks.
Music to recommend.
From my country.
Janet Chao
, a beautiful girl from Monterrey and a nice option believe me, she is really hot!! (she has new material andthe video is good)
Julieta Venegas
a nice musician, I gotta admit that she has light up with the years both is a nice option.
Molotov
always a nice option to listen.
From Argentina
Bersuit Vergabarat
an incredible band!!!!.
The killers
is a good american option with the single hot fuss!
From Italy
Nicola Congiù
and
Mango
two incredible male singers with nice music!!
I forgot to mention my favorites girl singers.
Natalie Merchant.
Tori Amos
Sherryl Crow in her good times and the my favorite ever Annie Lennox.
Havea great day!!!...JESUS ANTONIO