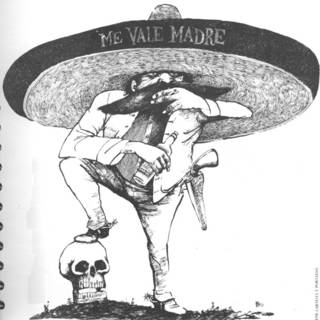 icon

My last topic of the day...
This image is an icon from the mid 70`s and is done by one of the few people I can really say is my inspiration and an example to follow.
This was done by the incredible Roberto Naranjo, almost everybody forgets his name because the trademak
Naranjo
has became his signature.
This is the man I can say I really want to emulate (I hope is the right word).
From Michoacan and a student of La Academia de San Carlos and now He continues producing his work in Proceso.
I can describe him with to words
"sour and ironic",
he really knows where to set the right idea, in fact is one of the most ferious and wild political cartoonist I have seen (there are some exceptions that I will refer later on but they are from a recent generation of artists.)
Probably Rius and Naranjo are now the two colums of the great work of the political cartoon in my country.
if you see his work closely he is one of my references at inking..
Best and see you later!!!...JESUS ANTONIO