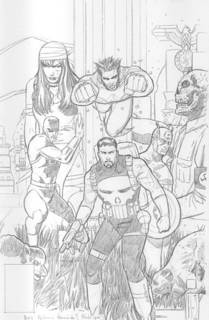 I am much better with my hand,BTW this is an old drawing and a favorite of mine.

Oh well I didn`t draw again today because of the accident on my hand, thankfully I feel much better, and I will try to draw tomorrow and take of my deadlines and projects all in track.
About music I wanted to recommend some people.
From Italy (I gotta confess I do not like pop but it seems that some italian pop is good)
Tiziano Ferro
Moda`
Georgia
Latinoamerican groups or singers.
Maria Rita
Los Autenticos Decadentes
PJ Natasha
Babasonicos (this group is incredible!!!)
Cafe Tacuba
Kinky
La Tremenda Corte
Groups or singers in English
Morcheeba
Hot Fuss
Snow Patrol
The Hives
Maroon 5
( What I still do not understand is why they are singing pop when I saw them having a more heavy kind of music, well odd ways)
Even the new single form
U2 "vertigo"
sounds decently good.
I am a little hesitant about recommending
Hoobastank
specially since I saw the last presentation in the MTv`s which was lame it was a shame to see the guy couldn`t reach the right tone.
have a great time!!..JESUS ANTONIO