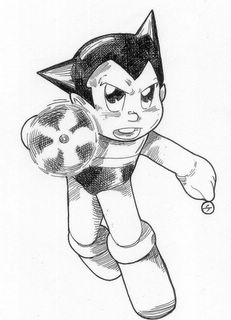 to cheer me up!!

Yes, I did this today to cheer me up, once in a while as an experiment I draw things that in normal circunstances I wouldn`t draw, I am no saying I do no like Manga on the contrary I love Manga but is not that kind of work I do everyday.
So right now Enjoy ASTRO BOY!!!
Yesterday I had something that cheered me up, well happens that I was talking to a sweet nice girl (a beauty!!)I met and btw I know her boyfriend ( a very nice guy I have to say), well I was telling her about my situation with Lupita and she told me that If She hadn`t had her boyfriend she wouldn`t think twice and would have started dating me!!.hahah It really cheer me up that
comment.!
I am working today in Luchador and tomorrow I will devote myself to other work I have in talks...Have a great day!!.JESUS ANTONIO