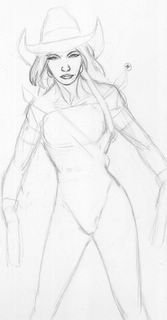 First Step

I wanted to give a little behind the scenes to the process into creating characters.
I have to be honest but I do not normally draw the characters in different positions, what I do is to have the clear idea in my head and then in the same sequentials use the information that I have based on a little script telling me where is the character going and ending up!
In this case this is a character for Luchador! (Yes, Nik I have another one I`ll explain it to you in a mail). This girl is Tania the Cowgirl a "Cazarecompensas" not part of number one.What I am really happy and impress is that the great Nik has come up with a great gallore of villians that Luchador might fight!.We even have most of the plots of every character, i am alwasy impress by the great work of love of The great amigo Nik!!
so well this is the first attempt to Hopefully I will finish it today or tomorrow!!
Have a great time!!..JESUS ANTONIO