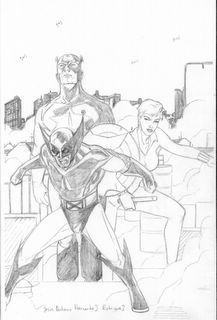 Wolverine

I was about to draw to distract myself from the work I am doing with Nik and trying to recover from my flu, I am much better.
Many things happened this weekend, let`s go for parts the drawing was based on one of my favorite comics ever drawn in the Uncanny X Men.
This Saturday a girl (not Lupita)... did I forget to mention there was a girl that wanted to be my girlfriend and I was just treating her as a friend?, well She had enough and just told me that She wouldn`t wait for me anymore (I never told her to wait for me or flirt with her in case you ask) so well I guess She is now heart broken, thing that doesn`t make me happy in a way I feel terrible because I can not correspond to her love but as a person told me " Do not make happy a person against your own happiness". I really hope She understands that I can no love her!.
I love someone else!! (Well you know the story).
Carol took some photos to me on Sunday for my new portafolio so I hope in less of 15 days show some of her work She did to me.
I took last week to work on my real life jobs, so I need to speed up a little all the things I have to do.
About Lupita well again no sign from her today, I in fact dated someone else this Saturday but I know myself I do not work in that way so I guess no dating to anyone till I solve everything with her...Well
BTW Nik... I have some comics and a T-shirt to send you!!! You will be thrilled and happy I hope to write tomorrow I tell you the story behind the comics.....
Take care all of you!!..JESUS ANTONIO