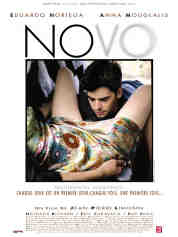 Novo 2002

This is an incredible concept that is decently handled over the movie, it is the typical work of Jean Pierre Limosin and well the actor Eduardo Noriega really amazes me.
The plot a guy that after a karate hit has virtual memory (that means that He doesn`t remember what it was in his past and also He loses all the information gathered in a matter of days so He has to write down his normal itinerary to remember his love life and work).
I really like it!!
ps:Irene is so beatiful!!
JESUS ANTONIO