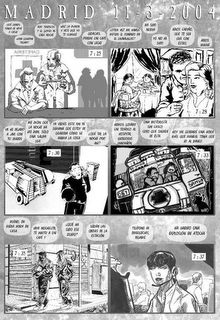 11 de MARZO/ MARCH 11th

I am so sorry guys for not using this time English for the next part of the comment but I wanted to drop some words to my great fellows over Spain.
This is one of the 4 pages where I participated, an enormous myriad of talented artists,writers and creators helped to develop this great magazine that appeared over Spain around November to help out the people who suffered in the terrible moments of March 11th 2004.
So let`s start using my Spanish!!
11 de Marzo
Un saludo enorme a mis amigos, conocidos, y gente que admiro como personas y seres humanos, quise utilizar estas líneas para saludarlos y de antemano recordar algo que a veces olvida uno por la barbarie y vorágine de la vida diaria.
Hace un año desvelado como es usual escuche una de las peores noticias que pudiera haber vivido, mucha gente sigue sin entender como es que uno desde la distancia puede sintonizar y entender todo, recuerdo que mi primera preocupación era mis conocidos y amigos españoles sobre todo porque he aprendido algo que ha veces en mi país no existe que es el apoyo incondicional en tiempos buenos y malos, y donde a veces unas líneas pequeñas o largas para apoyar tus tonteces, errores y a aciertos siempre se agradecen.
Escuchaba alguna de las victimas del 11 y sobre todo me conmovía saber que una de las grandes diferencias entre las tragedias personales y nacionales son las formas y los fondos, cuando a veces muere una persona cercana a ti bueno normalmente sabes que Dios o el destino lo arrebata de tus brazos y sabes que la herida se curara con el tiempo, pero cuando suceden cosas como las del 11 el enojo, miedo y el sentido de impotencia es lo que no se olvida, el saber que no dependió de ti sino de las decisiones de un grupo pequeño el que ya no tengas a tu ser querido, quiero pensar que este acto de impunidad sea castigado. Y NUNCA OLVIDADO!!!
No se olvida saber que no pudiste decirle al ser amado cosas pero no porque no pudiste sino porque alguien no te lo permitió.
En mi propio país es conocido la multitud de casos lamentables (ciudad Juárez, Cancún, el movimiento del 68 y del 71, la guerrilla de los 70's y 80's, presos políticos y ahora una gran desilusión de tener un gobierno que te IGNORA y vive en un mundo rosa) es por eso de algún modo que me siento parte del sentimiento de impotencia que el pueblo español tiene y tendrá.
Por eso y por suerte me siento afortunado por haber sido parte de un movimiento de ideas como fue EN TINTA PROPIA en donde el ayudar fue el motivador y creo no estar equivocado al afirmar que ese pequeño grano de arena puesto por tanta gente haya cambiado aunque sea a una persona, que le haya dado la cualidad de razonar sobre su momento histórico y tratar de buscar un cambio.
A mis queridos amigos que perdieron gente solo quiero decir que estoy y estaré siempre a su disposición y a los que sufrieron desde sus lugares les pido que nunca olviden, que nunca olviden que no dejen morir lo que el 11 de Marzo hizo que fue unir conciencias por medio del amor.
Un gran abrazo...JESUS ANTONIO