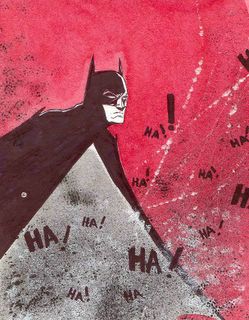 Design 2

Well I have been designing as little experiments with red during this week (using them only as exercises), seems a nice person who likes Matt Wagner sent me mail talking about Music and well I did this very fast after seeing his collection!! .
About Luchador well now I have a kind of void ,there is an effect that I can not get right and I already messed two pages! no problem at all because I have my pencils intact the only problem is the lost of time, so I am thinking in giving the solution but I need to ask a friend to see If the effect I want is good. Hope to see my friend during the week.
Music: please guys listen the new track of Bjork "Triumph of a heart". the video is so low budget but so nice!! :)Have a nice week!!..JESUS ANTONIO
ps:I loaded the Batman again with a little change!!