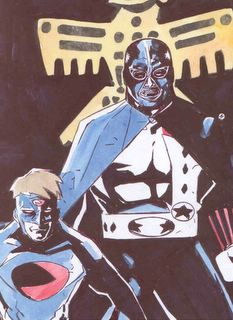 Experiment!

I saw today Lupita and well She told me She is a little blue, She didn`t give specifics so Well I can only support her and be with her, sometimes I get a little angry to myself that She can not see what I see (I know She knows my feelings but is afraid to take a stand).
Sad.
This image is an experiment using Luchador (The great concept Nik and I have)!! I have an idea but I still need to read what the great Amigo Nik has to say about it!!
I will have dinner with Fruti Loopis (my cousin) tomorrow!!I haven`t seen her in about 2 years so I will enjoy the moment a lot!!
And on saturday I will travel to Monterrey to visit my cousins and some family!!
Good day!!
Keep me in your prayers ( I want to make a good decision about my situation with Lupita)...See ya!!..JESUS ANTONIO