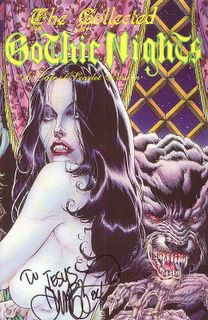 Vigil

Well I have been talking and talking about painting, let me return to my basic point: Comics.
I want to recommend a real jewel or gem (A real treasure I have and all thanks to the great Nik, He sent me this great copy!!!!!).
If you wanna read a great gothic story get this issue and the ones drawn by Tim Vigil.
I was incredibly amazed on the flow of the story, really good one,art was amusing!!!.
Dramatized by David Barbour
Scenes by the Good Timothy B. Vigil
Background paintings by Timothy B. Vigil, Adam McDaniel and Stephen Ryan.
Inscribed by Brent Carpenter.
Published by Rebel studios.
I have also to comment that I am no sure if the comic is new or very old, want I can say is that If you like gothic this is a must!!
Nice Weekend!!..JESUS ANTONIO
ps:Yes, when I do not load my work is because I am working, funny as We speak I finished page 10 of Luchador in pencils, I need to work in the perspective of some panels but I am drawing as fast as possible to finish to color the pages and start the ball rolling!!....:)