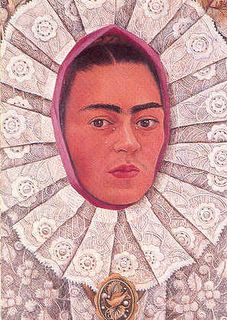 Frida Kahlo

This is one of my favorite images of Frida (I have to confess I do not really like her technique and not all of her work full of desperation and sadness,I guess I like her work more based in what She really had as her life, so flat and stupidly full of weaknesses that by the time became her own strenghts).
I mean you know her accident being very young and having her back almost crashed,she was ran over a bus (She die imprisoned in her bed), losing so many babies (She always wanted to have a baby from Diego Rivera, the greatest love of hers), her political statements (more based in the social rusian propaganda published in Mexico, having an affair with Leon Troswky, also Frida known as a bisexual entity).
I mean She really made her own life difficult by living in the eyes of Diego, Diego even cheated on her with one of her sisters....
Well Enjoy the piece is called Autoportrait and Medallion...JESUS ANTONIO
Update: I really have to say that sometimes I forget the great sharing person She was, She became a teacher and help a nice generation of painters from the 40`s to start a movement (many people called them Los Fridos, thing that I guess They do not really like, Cabrera being one of the most famous from that group of artists being taught in The Casa Azul of Coyoacan).