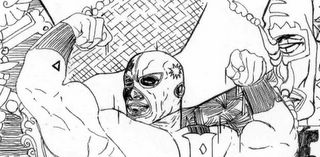 MMMMMM..what I am doing now that I haven`t seen Lupita!!?? Drawing full time is the answer!!

Have I ever said I love rainy and cloudy days!!?? Yes, I do love them!!
Today I sent some mails to people and some pencil scans of LUCHADOR! to Nik, I am sure he might like the storytelling, I am still working in the coloring.
I haven`t seen Lupita, seems She is getting distant..well I don`t want to care a lot on the matter.
Tomorrow I will be visited by my cousin (by the way her name is Guadalupe or Lupita haha funny isn`t it, the good part is that I call her Frutty Loopis since long time ago so You guys do not get confused), My cousin is visiting me and we will have dinner tomorrow!!.
I am dividing my time with real life work and drawing In a way is a bless I haven`t seen Lupita!! :(.
..Have a great day!! I will enjoy my chilly day!!!...JESUS ANTONIO