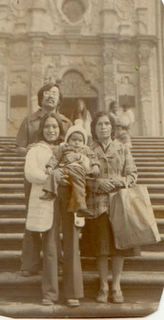 1976!!

Today my Mom found this old photograph and I just can believe it!
I decided to scan it just to have also a record of the moment.
As you might realized the guy with the mustache is my Dad (hahah I still make fun of him when we see photos of him and that style), well my Mom is holding me (My mom is cute isn`t she?) and as usual I am always serious and never smiling for the shot.
And My Grandmother is also in the photo....My God!! from what Mom told me this photo was taken in my first Anniversary on this plane, We went to Mexico City to celebrate my birthday and say thanks in one of the churches for me being there that is why my full name is JESUS ANTONIO, seems that when I was born I was a little delicate and I was for some days in the hospital, so the travel to Mexico was her way to say thanks.
Funny but I was thinking of my GrandMom today!!!.
Great day to you!!...JESUS ANTONIO