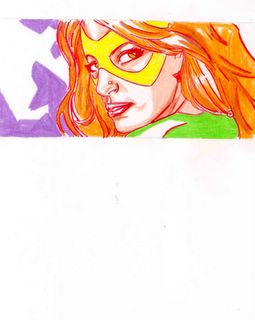 Jean

Ohh Well I was coloring Luchador! and experimenting with color work this afternoon, my brother lent me a book of a very good illustrator called Clamp I guess the title of the comic was Angelic Layer and well this is the result.
And also became a good present for a friend.
Yesterday I went out with a girl and We ate Chinese food, I had a nice time! We also talk about a business I want to make with T-shirts, I only need money to start the prototype and start checking how factible the idea is.
No news about you know whom...after the mail I sent her.
A friend of mine told me He talked about me to a great Spanish illustrator, so I am happy.
I started to get in contact to people again,I ma trying to catch up with e-mails.
My Mom is much better after her falling, some bruises but nothing that bad, so it is a relief indeed.
hahah how funny mind works there is a group called Conjunto Oro that plays norteñas and well there is a song that I can not have out of my head from them, I like that group. hahah the funny is that is the kind of music I do not really listen so often.
Good Start of the Week!....JESUS ANTONIO