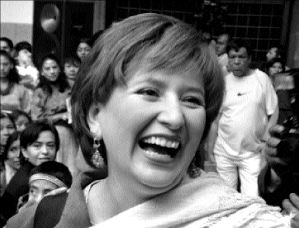 Xochitl Galvez

I normally trash about the situation in my country but today I have an exception.
This is Xochitl Galvez and is maybe one of the few who is really working in favor to the Country.
She is in charge of the Office of Development in the area of Indigenous and Etnias from my country and as I said She is really working in making the country a better place.
If she ever tries to run for a public position She really has my vote since now.
hahahahaha..... yesterday appeared in the media that it was finally caught one of the most dangerous drugdealers of the Country and today They just said that it was an awful mistake, They sent to prison a very recognized architect from my country and after being in prison the goverment just apologized for and let him free..(amazing and scary how things are in my country).
Great day!!...JESUS ANTONIO