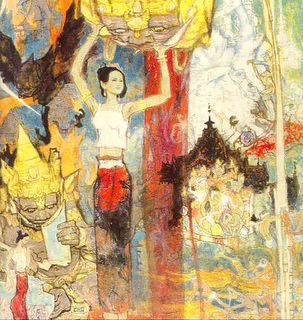 The Girl

Tomorrow is going to be in my country El Dia del Niño.Children`s Day
And I wanted to share the image of one of the best books I read when I was a little boy.
One of the best things is that in my country had a kind of invasion of a lot of material from The Popular Republic of China, in that time very interested in transmitting the culture of the country.I saved around 2 months to buy it.
And one of those fabulous books I got is the story called "The Girl and the Demon", I won`t spoil the story try to find it.
I have to say that it will be a nightmare to find it but is really worthy.
This book was published in the mid 80`s.
The adaptation was done by Shi Shan and the beautiful work of Lou Jiaben.
Have a great day!!....JESUS ANTONIO