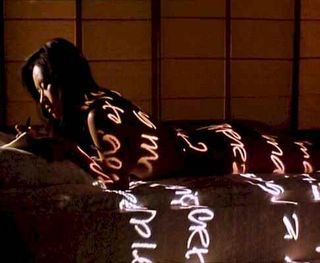 Pillow Book

This is one of the best ever movies I have ever seen in my life.
The movie starts with this saying
'When God made the first clay model of a human being, he painted the eyes, the lips, and the sex.
And then He painted in each person's name lest the person should ever forget it.
If God approved of His creation, he breathed the painted clay-model into life by signing His own name.'
It was done around 1996...If you like art this is one of the best options!!
Sometimes I do not have the time to write some of the movies that have really touch me so I am including some. If I remember more movies I will update this post.
METROPOLIS
FAUST
LULU
LOLITA
TRAINSPOTTING
CINEMA PARADISO
PILLOW BOOK
TIN DRUM
SPIDERS
DIABOLIQUE (The French Version)
PULP FICTION
BOONDOCK SAINTS
DIE NIBIELUNGS
THE GENERAL
COLLEGE
KILL BILL II AND I
CONSTANTINE
ROSEMARY BABY
GOT MAIL
ALL MOVIES BY BUSTER KEATON,FRITZ LANG,W. MURNAU,CHARLES CHAPLIN,LAUREL AND HARDY,LANGDON,HAROLD LOYD.
SEVEN
CASABLANCA
THE MALTESE FALCON
GONE WITH THE WIND
GIANT
MOVIES DONE BY BUÑUEL (He made movies in Spanish and French in Mexico ,France and Spain).
LA PRIMERA COMUNION (a beautiful italian movie).
ROJO AMANECER
SILENCE OF THE LAMBS
5TH ELEMENT (Only for the great designs of Moebius).
ORANGE CLOCKWISE
SUNRISE
NOSFERATU (Both versions the silent and the one done in the 70's, I have to say that the recent one is a bit boring).
If I remember more I will post them for sure!! have a great day!!..JESUS ANTONIO