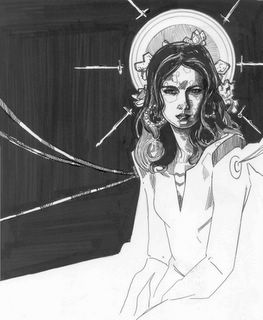 Robot Love sketch

Many news to say this time firstable I already finished Fool the story I wrote and drew for a comic that will be self-published by the nice fella Jimmy T (that will be also the inker for those pages). I will send the package as soon as I have money.
I am finishing the coloring of the first 12 pages of Luchador! hopefully sooner that expected and I will work also in the story Robot Love.
Also I will draw a great 12 paged horror story written by a great spanish writer I admire a lot!.
About Robot Love...I loaded an sketch of one of the main characters. Expect more work in some weeks and also to finally tell who the writer is.
I finally send a mail telling Nik the situation for the Convention.
I contacted a friend of mine hoping He kinldy writes something to me for a proposal.
No conctact from the guys from the company in my country so well I guess I need to wait.
Pedro L. Lopez one of my favorite writers ever and friend is checking how to move our work as usual in Spain btw We are getting published in a couple of months with IN NOMINE.
Other comment.... guys promote my work I know that many pros are reading my humble blog so if you can help promote my work and the work I do with the great writers I have with me backing up our work, do so!
If you want a comission you have TWO ways: The first to contact me directly If not you can contact the great Nik as aks for it.
Did you get your copy of Rocket Girl?
no !!!! what are you waiting for?.. go here and ask Nik about it
www.picklepress.net
Have a great day!!!..JESUS ANTONIO