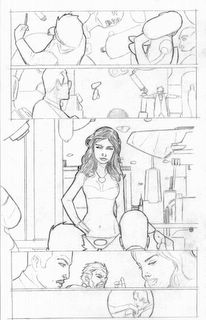 Robot Love

When I started the process of Robot Love I never expected to be with people I admire and also respect.
As you have seen our nice Ron Fortier beign always so polite and gentle with me, and now another person is getting aboard the journey: Chuck Gibson.
Well this is one of the happiest times about being with a person who has been a great person over all these years,a friend and also a person that with his example of life has taught me about how to become a better person,things I won`t do that He had to pass through , also not to take things for granted and the way to be extremely cautios and become more mature and smarter as a person and artist.
He talks the ways He feels and I have to be honest I really like his hyper realistic way of thinking.
This is his Bio and soon I will have a whole interview to him, so you can know more the insights of the great risk of becoming a Pro in the medium and know him better. (I am preparing the questions in a couple of days!!)
BIO
Chuck Gibson was discovered in the 'second wave' of the Homage Talent Search in 1994 and hired by Jim Lee. Chuck remained with Homage, which became Wildstorm, for three and a half years as an inker working on nearly all of the titles they published at one time or another. Chuck's Wildstorm credits include Wetworks, Grifter, Wildcats, Savant Guarde, Backlash, and many others--along with more trading cards, pinups, and promotional illustrations than even he can`t remember. Chuck went freelance in 1997 and has since worked for a number of companies including Crossgeneration comics where he inked the Silken Ghost Mini series. He lives in Roswell, New Mexico and his hobbies include sleep deprivation and writing about himself in the third person. :)
So thank you Chuck for the back up and being with us!!! JESUS ANTONIO